2 special emergency standby generators for the new J&T Bank Building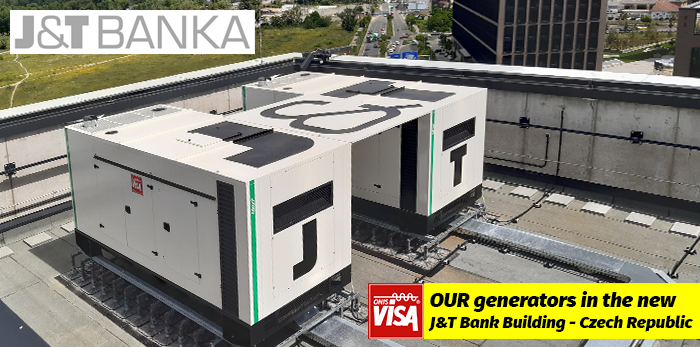 Two special emergency standby generators operating as independent sources of electric energy were recently supplied by Visa SpA, through its official Distributor company ALTRON, a.s, Prague, specialized in special projects and complex applications, supporting the systems of the important J&T bank group in Karlín, an area that is experiencing a rapid rise in Prague, Czech Republic.
When a major finance group like that needed new generators for its offices in the new J&T Bank Building, an eight-story building of which the J&T bank is the exclusive occupant, it chose Onis Visa products to carry out the task, since it had the resources to offer a total engineering solution.
Visa SpA provided two P 600 GX generators, P.R.P power kVA 600, L.T.P. power kVA 660, each powered by Perkins engine 2806C-E18TAG1A coupled with Stamford model HCI5E alternators, suitable to supply versatile, reliable power in primary and stand-by installations.
The two generating sets are equipped with an In-Sync automatic control panel which is used for the parallel management of the machines to support the protocols ensuring to cover all the requirements of power supply in case the electric grid ceases to provide electric power.
The baseframe acts as watertight basin for any leaking liquid from the machine. The baseframe-integrated fuel tanks of 950 Lt capacity grant a long time operation.
With regard to soundproofing, the two generating sets come in the Galaxy soundproof version, representing a concentrate of high technology in terms of compact design and high level of noise reduction.