8.5 MVA DCC power plant DATA CENTER -Kazakhstan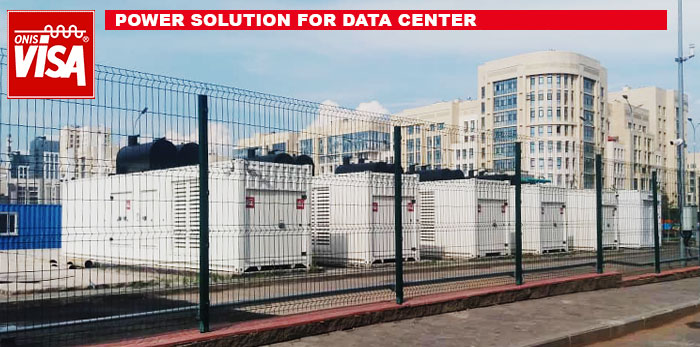 VISA SPA recently supplied generating sets for a Data Center in Kazakhstan to power a primary bank group inside a commercial complex hosting various other activities that are expected to be themselves integrated in sharing the same spaces and service later on.
The entire project was coordinated by our local dealer who received the commissioning through his contractor. All the stages of development and implementation were personally followed and supported by our team of engineers working side by side not only with the distributor but also with the customer.
The company's expertise and product innovation enabled to play a crucial role, with the purpose to protect the electrical plant counting on extremely reliable and uninterrupted power supply, vital aspect to safeguard the stored data information.

CASE HISTORY
| DATA | DESCRIPTION |
| --- | --- |
| Project: | DATA CENTER in a commercial area |
| Location: | Kazakhstan |
| Power required: | 8.5 MVA DCC |
| Power installed: | 8.5 MVA DCC |
| Generator sets: | 5 x P 1700CONT operating in parallel system |
| Dimensions: | Container 40' HC: 2438 x 12192 x 2896 mm  (W x L x H) |
Specific requirements:
For this project the final customer required a solution to grant total safety in the data loss prevention to help avoid potential risky situations that could undermine the operating system, relying on high quality products and engineering expertise.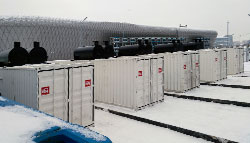 Special configuration:
Specific features to grant the plant to work uninterruptedly under difficult environmental condition, where temperatures reach up to -40°C in winter season and +40°C in summer.
Purpose:
To prevent any loss of data and/or functionality of the databases, to ensure the highest level of security.
Project description:
The project consisted in the supply of 5 units of Onis Visa generating sets model P 1700. All of them are installed as emergency power sources for the building consumption, including the Data Center operating automatically in case of power failure, thus preventing any loss of data or functionality.
During the development phase, Visa SpA analyzed all the important aspects that could affect the plant operating system providing the support for the right power and equipment.
All the machines are powered by Perkins 12-cylinders engines model 4012-46TAG3A , the proven 4000 series range that offers superior performance and durability with optimal access for ease of installation and maintenance servicing coupled with brushless and self-exciting Stamford PI734E alternators with anti-condensation heater.
All units are equipped with 2000 Lt. fuel tanks mounted on board.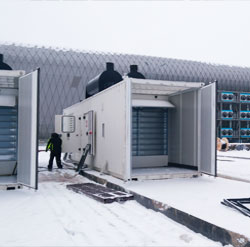 Challenge:
The most crucial challenge was the difficult environmental conditions up to -40°C.
All gensets were expected to be placed in external area, outside the building, where extremely low temperatures and snow storms could seriously affect their operating functions. With that in mind, we had to make sure that the systems worked uninterruptedly to avoid any loss of service due to freezing or water infiltration. Our team of engineers worked on highly customized units that could fully comply with the strict requirements they were supposed to be facing.
Additional features included: motorized louvers for air inlet/outlet, oversized engine pre-heaters, Control panel heater, alternator with anti-condensation heaters, cold start capability at particularly cold temperatures, Parker-Racor fuel filtering for water separation, which removes particulates and water from fuel giving the reassurance required when engine failure is not an option. Moreover, fuel tank is provided with heater to face harsh environmental conditions.
Enclosures:
In addition, the specifications for this project included also low noise acoustic enclosures. The units are placed into 40 ft HC soundproof containers, featuring a special structure that makes them particularly compact, sturdy and representing the right choice for such demanding application.
They guarantee 80 dBA @ 7 mt sound pressure, equipped with external mufflers, 2 anti-panic double doors, lighting inside, additional sockets and quick fit release for possible external fuel feeding.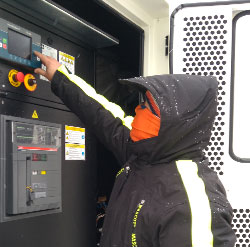 Control Unit:
The electricity generators are equipped with In-Sync control panels allowing the paralleling synchronization among them. The gensets are designed to simultaneously start, through a remote signal, in the event of mains failure, through the Web paltform OnisVisaWebSupervisor.
It is clear that the technical support of the Onis Visa Gensets had been of prime importance to the development of the whole project. Once all units had been installed, two Visa SpA engineers personally assisted to all the commissioning and start-up stages, instructing the customer's technical staff about safety and maintenance procedures.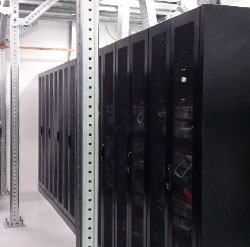 The main reasons why Visa SpA has been selected as supplier is the long experience on many other similar projects and the fact that it grants a high level local service through the company's regional dealer.
Working with a well-structured organization constantly searching for ways to better support customers in their requests, whatever being the level of difficulty, can make a lot of difference, above all in terms of regional know-how and after-sale services, especially if dealing with complex power plants.