CASE HISTORY: IHITC COVID-19 Quarantine Hospital in Pakistan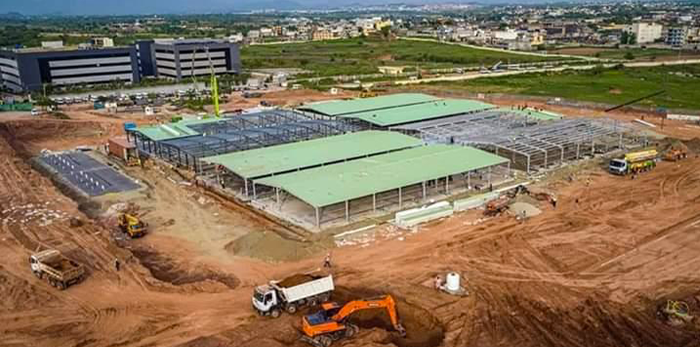 Exceptional commitment towards the turnkey project of supplying 1.25 MVA Backup Powerplant consisting of 3 units of electricity generators, playing a fundamental role in bringing relief for the Corona Virus patients in the form of uninterrupted power supply. Visa SpA, through its local distributor, was recently involved in providing highly reliable technological machines, to constantly support the exceptional protocols ensuring to cover all the increased requirements of power supply.
CASE HISTORY
| DATA | DESCRIPTION |
| --- | --- |
| Project: | IHITC COVID-19 QUARANTINE HOSPITAL |
| Location: | Pakistan |
| Power required: | 1.25 MVA in P.R.P. Power |
| Power installed: | 1.25 MVA in P.R.P. Power |
| Generator sets: | 2 x V 500B - 1 x V 250B |
| Dimension: | 1300 x 3300 x 2250 mm  (W x L x H), 1120 x 2650 x 1900 mm  (W x L x H) |
Purpose : Project to serve the Isolation Hospital and Infectious Treatment Center (IHITC), presently constructed to fight against Corona effects and later a full fledge infectious treatment hospital.
Configuration : supply of 1.25 MVA backup power plant consisting of 2 units x 500 kVA & 1 unit x 250 kVA Onis Visa Diesel Generators powered by Volvo Penta Engines & Stamford alternators Given the critical nature of the project, Onis Visa brand was selected for its exceptional efficiency and reliability, the ideal solution for this high level application. A key performance feature that attracted the customer to the brand was also the technical support assured by the local official Distributor.
Installation name: Isolation Hospital and Infectious Treatment Center (IHITC)
Location: Chak Shahzad, Islamabad
Installation date: Formal inauguration on 15th of May, 2020 by Prime Minister of Pakistan
Project's aim: The electricity generators serve the different structures of the Infection Treatment Center, including isolation rooms and Intensive Care Units · Minor OT, diagnostics and laboratories, special ventilation requirements (specific air changes and negative/positive pressure phenomenon), hospital gases · laundry, mortuary, sewerage treatment plant & incinerator, as well as fire detection and fighting system. All the healthcare units are currently working at their full capacity to guarantee the extraordinary required operational functionality in the effort to fight and contain the epidemic.
Technical specifications: The generating sets are fitted with Volvo model TAD 1641GE and TAD 734 GE coupled with Stamford Alternators models HCI 544C and UCDI274K.
They are supplied as a backup power in-case of Mains Failure but due to non-availability of Mains Source (i.e. WAPDA in Pakistan) at Site. All the machines are currently running 24/7 to supply load to the hospital till availability of Main Source. An important aspect requested by the customer was the maximum reduction of residual vibrations. For this purpose, the technical team has developed a system consisting of anti-seismic anti-vibration spring mounts placed between the baseframe of the machines and the supporting platform. All units are equipped with a fuel tank with special capacity with automatic filling pumps on the machine to guarantee an operating autonomy at full load exceeding the 24 hours, as per requirements. The generators supplied to the hospital also feature the possibility for the exclusive SupervisorPlus Active Supervision Service provided by the Visa SPA service department, which intervenes remotely, if necessary, advising on solutions and planning interventions, before they become critical.
Challenge: 
One of the biggest challenges that the company has faced in carrying out the project has been the time factor: an exceptional delivery time was granted, securing the opportunity to execute complete scope of work against high quality standards requirement for product and swift delivery on project site within 10 days.
Why choose Visa:
All the generating sets were successfully delivered and installed on site according to their strict schedule, demonstrating the company ability to work to stipulated project deadlines even under the most challenging conditions.