DC installation for CETIN – Czech Republic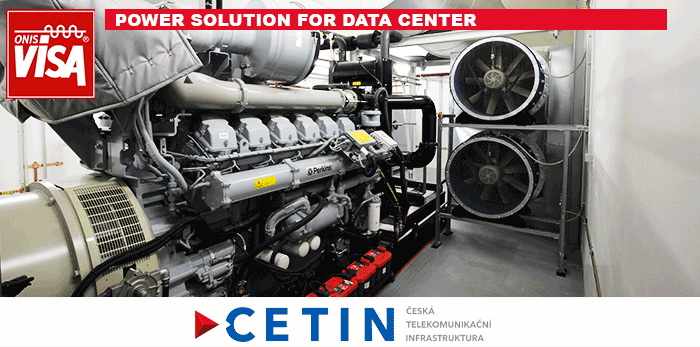 CASE HISTORY
| DATA | DESCRIPTION |
| --- | --- |
| Project: | DC INSTALLATION |
| Location: | Czech Republic |
| Power required: | 3.40 MVA (P.R.P.) |
| Power installed: | 3.40 MVA (P.R.P.) |
| Generator sets: | 2 x P 1700U |
| Dimensions: | 2200 x 5300 x 2750 mm  (W x L x H) |
PURPOSE:
This is a new DC project co-developed by our partner for company Česká Telekomunikační Infrastruktura a.s. (CETIN), headquartered in Prague (Czech Republic) who is the only national Czech telecommunications infrastructure provider. The company is part of PPF Group and it was incorporated in June 2015 after its spin-off from O2 Czech Republic (formerly Telefonica O2 Czech Republic). CETIN currently operates and manages fixed and mobile infrastructure in the domestic market for O2, T-Mobile and Vodafone and transit infrastructure abroad, with an international presence in Germany, Austria, Slovakia and England. In 2015, CETIN generated revenues of CZK 19.13 billion.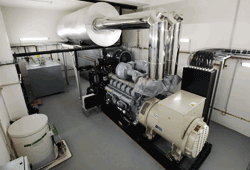 TECHNICAL SPECIFICATIONS:
The project consisted in the supply of 2 generators with power output 1700.0 kVA (PRP) / 1875.0 kVA (LTP) in open version, with API heat cooling water exchangers, complete with cooling pipe lines, glycol-water pump and remote external radiators. Both gensets are powered by 12 cylinder 4000 series Perkins engines and equipped with Leroy Somer alternators, based on their suitability, world renowned quality and market leading reliability.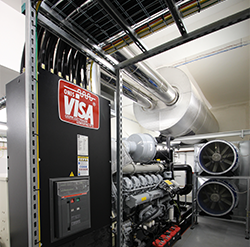 CONTROL SYSTEM:
The gensets control systems allows not only standard emergency operation in stand-by mode, but also in parallel operation modes (back and forward synchronization with the mains) as well as it grants the operation of all genset's  auxiliary systems as air ventilation system, an external cooling system, fuel system and complete monitoring system including the full visualization for integration to the master Building Management System. An external fuel system with two fully independent tanks allowing the maintainability of all components of system, as per major requirements for TIER III criteria, is designed for more than 24 hours operation at full load.
SPECIFIC TECHNICAL SOLUTIONS:
Thanks to an integrated pre-heating resistance with a pump, the engine water is kept at a temperature of at least 40°, enabling the gensets to start a few seconds after any power outages, in order to ensure a totally secure uninterrupted power supply, which is a fundamental feature, especially referring to Data Center applications.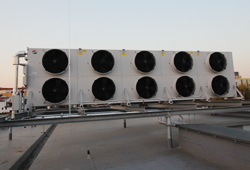 Once the customer's expectations have been identified, it was possible to provide the most suitable solution with thermal exchangers, standing out form other main competitors.   
This was one of those applications which required specific customised technical solutions and reliability. As the result of the great expertise during the design phase, maximum attention was dedicated to the understanding of the customer's needs.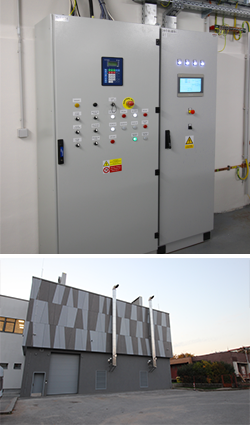 As part of the full turnkey contract, Visa SpA' s distributor supplied not only the generating sets, but also the complete emergency power generating system, including the complete external coolant system too: pipelines with circulation pumps for coolant system, external dry coolers, as well as chimney and  air ventilation system in the gensets' room, fuel system and the entire monitoring system for intelligent control of a DC facility.  A dedicated team of experts provided the professional support during all phases. 
CHALLENGE:
The DC building is located in a residential area, so one of the biggest challenge was to keep really very high requirements for noise attenuation. The noise requirements were achieved through the installation of extremely heavy duty exhaust silencers (5 m length and 2 m diameter) and specifically designed air ventilation system with electrically-powered fans and 4 m long attenuators  ("cell silencers") in an inlet and outlet air ventilation ducting.
COMPLIANCE: 
The project complies with the specifications of class as per TIA-942 standards, and meets all requirements for TIER III as per Uptime Institute, a globally recognized organization that created and administers TIER certifications for the design, construction and operational sustainability for data centers.