POWERING AN IMPORTANT DATA CENTER IN NORTHERN EUROPE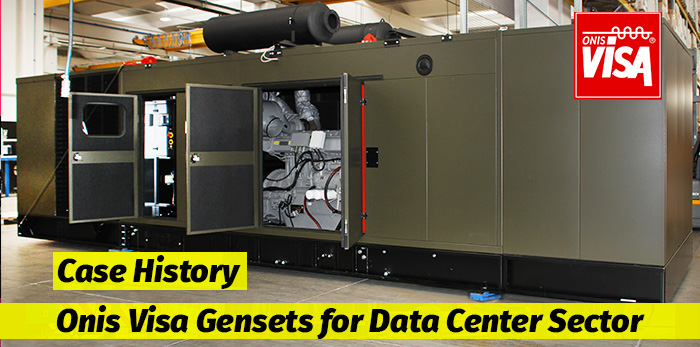 Visa SPA has just supplied 4 units generating sets to power an important Data Center in Northern Europe. An example of expertise to support all the critical functions of the plant in total safety, when it comes to guaranteeing standby or emergency electrical power, in terms of flexibility, responsiveness and cost, Onis Visa generators are the most suitable solutions.
The high reliability, robustness and cutting-edge technology of Visa systems avoids any risks arising from the power failure of infrastructure and databases that could somehow undermine the operativity of the plant. Working closely with the client, Visa designed a specific high-performance solution for assuring the highest degree of security.
Our engineering department worked side by side with customer fully cooperating at all stages of the project to ensure the systems were fully suitable to prevent any loss of service and to create customized units that were able to meet the tough requirements that Data Center applications need.
| DATA | DESCRIPTION |
| --- | --- |
| Project: | DATA CENTER |
| Location: | Northern Europe |
| Power required: | 2 units x 700 kW (DCP) + 2 units x 850 kW (DCP) |
| Power installed: | 3.6 MVA (DCP) |
| Dimensions: | 2260 x 7400 x 2850 mm (W x L x H), 2260 x 9700 x 2950 mm (W x L x H) |
Special configuration:
Redundancy for emergency electric power. Every genset is designed as backup system to the mains line.
Special canopy provided with specific painting treatment in double layers (Primer + Top coating) to assure the highest level of resistance to salt spray. Dedicated lighting system inside the canopy (LED Light).
Purpose:
To prevent any loss of data and/or functionality of the databases and to ensure the highest level of security.
Technical specifications:
All units are provided with emission-compliant Perkins 4000 series engines and are coupled with Stamford alternators: model S6L1D-E and model PI734A.
All machines are provided with special controllers for parallel synchronization.
Special alternators
To finalize the project and to comply with all the client's requirements, we selected Stamford alternators for their reliability and high level of quality and performance.
For this specific supply in Data Center the alternators were required in Temperature Class F, it means increase in 105 °C above 40°C ambient temperature, so it was necessary to consider oversized alternators. More over the alternators are equipped with AVR and PMG.
Project development:
To finalize the project and to be able to comply with all the client's requirements, a whole team of experts came together, not only Visa engineering team but also partners, suppliers and client himself.
All the phases were carefully defined and developed one by one.
Canopy treatment
One of the most significant features is the canopy. Special painting has been developed in double layer to guarantee a very high degree of resistance.
The steel sheets were treated in advance with 6 different washing processes to prepare the surface to the powder coating excluding any fat parts or residuals and allowing the powder to be properly fixed. Only after that, the two layers of powder coating were applied, first the PRIMER, and secondly the TOP coating with the specific RAL tone as per indications. This treatment allows to reach extremely high protection and level of performance.
Besides this special feature, we also provided the canopies with a GLOSS painting to enhance the degree of gloss and grant a perfectly smooth finish.
Lighting system
The internal structure of the canopy was equipped with a lighting system, following the customer's indications so that the operator can easily manage checking or maintenance operations whenever they are needed.
External light supports were also provided to allow the client to arrange its own additional lighting system.
Control panel:
The electricity generators are equipped with In-Synch control panels allowing the SPTM synchronization (Short Parallel To Mains). The gensets are designed to simultaneously start in the event of mains failure.
The temperature inside the data center, including conditioning and proper ventilation for the storage devices were fundamental factors to be taken into consideration. They were protected by the same emergency backup generators, operating automatically in case of power failure, thus preventing any loss of data or functionality.
Fuel tanks
All gensets mount an on-board oversized fuel tank integrated in the baseframe, respectively of 2500 Liters for smaller-sized units and of 3000 Liters for the bigger ones.
The fulfillment of the entire project was possible respecting the strict deadlines established by the customer.
Onis Visa products were chosen for their quality and reliability combined with relevant Visa expertise in carried out special projects destined to Data Center applications.