RI-SCATTI. FOTOGRAFI SENZA FISSA DIMORA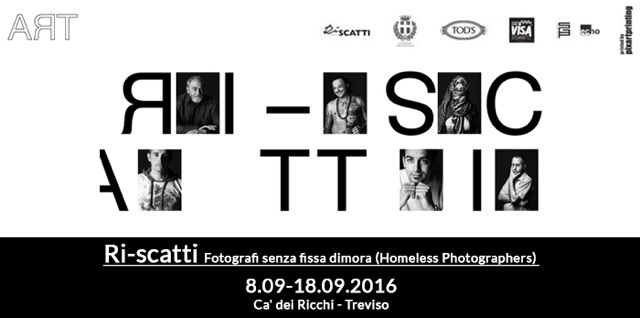 Starting from September 8th, "Ri-scatti. Fotografi senza fissa dimora" (Redemption. Homeless photographers), the photographic exhibition curated by Chiara Oggioni Tiepolo, will open to the public in the elegant setting of Cá dei Ricchi in Treviso, Italy.
The name of exhibition is based on a play of words, where "Riscatti" means redemptions but "Ri-scatti" means "taking pictures again".
The exhibition, derived from an idea of Federica Balestrieri and hosted in Treviso by the Assocition TRA Treviso Ricerca Arte, was presented for the first time in February 2015 at PAC (Padiglione di Arte Contemporanea – Contemporary Art Pavilion) in Milan.
In 2013 fifteen homeless people were selected with the purpose of following a couple-of-months photography course, taught by two professional photographers, Gianmarco Maraviglia and Aldo Soligno of Echo Photo Agency, coordinated by Federica Balestrieri and by the Associazione Terza Settimana. The homeless had been asked to take pictures of their days and document their lives.
A project like that had never been seen before, namely a photo reportage completely carried out by people living on the streets that accepted to tell their stories through the lens of a camera.
That project gave birth to an extraordinary Kaleidoscope of images where poverty however never prevails, you can only perceive its unwieldy presence, similar to a sort of chorus in a Greek tragedy; all images, on the contrary, speak about hope, beauty and strong drive towards the future, in a word speak about "Redemption".
The curator Chiara Oggioni Tiepolo selected the best pictures to be displayed at Cá dei Ricchi, counting on the sponsorship of important brands like Tod's, Visa S.p.A and Pixarting for the exhibition catalogue.
During the event, it will be also possible to purchase the pictures, considering that the proceeds from the sales will be donated to the RISCATTI Association, that was born from that extraordinary experience, in order to go on in supporting other projects of redemption and social advancement, as well as fundraising activities for homeless people.
RISCATTI is a voluntary association involved in projects and event related to the world of culture, art and photography as a way to promote social integration, to grant a second chance to those who are disadvantaged and, last but not least, to increase public awareness about the values of solidarity. The mission of the Association is to sustain suffering and marginalized people through social integration among different cultures that are so often hidden by indifference.
To learn more, visit the website: www.ri-scatti.it.
The exhibition is open until 18th September.
Opening hours to the public:
from Tuesday to Saturday from 10.00 to 13.00 and from 15.30 to 19.30.
Sunday afternoon from 15.30 to 19.30.
CONTACTS:
TRA Treviso Ricerca Arte
Ca' dei Ricchi
Via Barberia n.25, 31100 Treviso
segreteria@trevisoricercaarte.org
www.trevisoricercaarte.org
+39(0)422 419990 / +39 339 6443542