SPECIAL GENSETS TO POWER 5G NEW TECHNOLOGY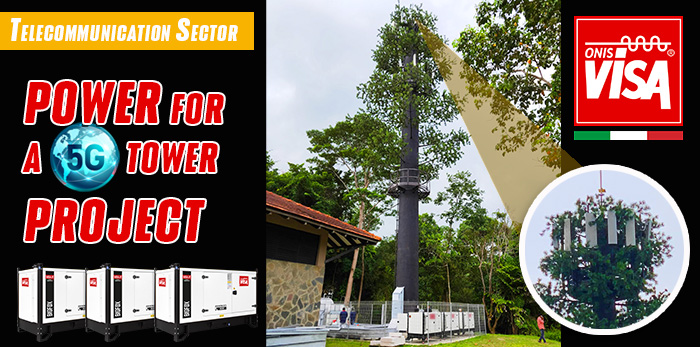 In a so interconnected world, Visa offers a product specifically created for those who live at high speed, designed for telecommunications and developed adhering to the current international standards to meet the needs of the people who operate in this sector day by day.
CASE HISTORY
| DATA | DESCRIPTION |
| --- | --- |
| Project: | CONTINUOUS POWER SYSTEM FOR 5G PROJECT |
| Location: | Far East |
| Power installed: | 120.0 kVA (P.R.P.) |
| Generator sets: | 6 x D 21 FOX |
| Dimensions: | 945 x 2030 x 1340 mm (W x L x H) |
A contract singed almost a year ago, through our historical Partner who operates globally, allowed Visa SpA to finalize a highly technological plant the customer can rely on, for military sector. It is a special application provided for the global wireless network 5G, the recent technology expecting to connect virtually everyone and everything together including machines, objects and devices, with the ability to flexibly support future services that are unknown today. Considering the high peak data rates, 5G has extremely great network capacity and needs to count on very reliable systems.
The plant is located in a desert island in the Indian Ocean in the Far East, where there is no mains power source.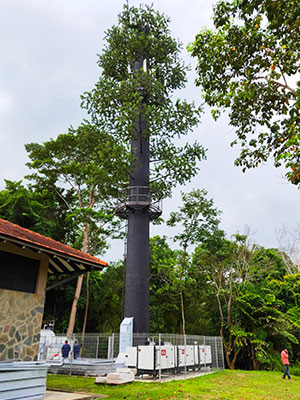 For this complex project Onis Visa series FOX generators were required, well known for their high reliability. The machines are designed to supply the plant continuously preventing any possible electricity interruptions, to grant performance, security and all the network functions of the 5G wireless technology, a perfect solution where power combined with compact size is necessary.
The plant consists of 2 BTS towers, each of them powered by a series of 3 generators designed for continuous operation in ambient temperatures covering up to 50°C and cold start capability down to -30°C. The first supply was recently installed while the second delivery consisting of the other 3 remaining units destined to power the second BTS tower will be completed shortly.
The electricity generators are all redundant among them equipped with a special parallel control system to manage the alternating operation. All of them work continuously in PRP but respecting an alternation program on the other units, in this way the same degree of use and, consequently, of wear, is guaranteed. Redundancy also allows to program intervals for routine maintenance more regularly by the plant operators. Maintenance operations are quite easy thanks to the genset's space optimizing and clear accessibility of the structure.
This application is particularly suitable for feed telecommunication sites in remote areas where there is no connection to the Mains and the BTS is exclusively fed by the generators.
Visa SpA has developed several high-performance solutions for BTS sites: generating sets with more autonomy, reduced refueling frequency and extended service intervals for telco sector, transmission towers, radar, data centers. These gensets guarantee reduced operation costs, particularly suitable for those that are installed on remote sites.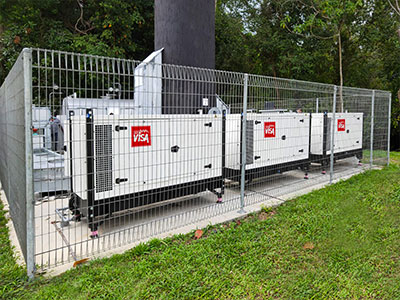 The gensets are all model D21 FOX, with Deutz diesel engine model F3M2011, equipped with electric speed governor EMR, granting low emissions and low environmental impact and coupled with Stamford Alternator model PI 144D with standard AVR.
The three gensets with the electronic RPM regulation, feeding each BTS tower, are all provided with Comap InteliLite AMF 25 on board and are connected to an additional separate control panel for parallel synchronization which manages the whole system, featuring 3 Comap In-synch boards, a 18" color touch display InteliVision18 and three motorized switches. This controller is complete with SCADA system for high-level process supervisory management of the whole plant, including the Internet Bridge for remote monitoring through GPRS, so the application can be managed in real time and is constantly under control, assuring service assistance and technical support even if the machines are located in a desert island.
This special control solution fulfills every requirement for this kind of application, covering complete genset monitoring and protection.
The connection between gensets and control panel, as well as between control panel and antenna, occurs through three-phase sockets, making the connection very easy.
The electricity generators have an integrated fuel tank of 90 Lt mounted on board complete with retention basin and fuel leakage sensor and are also equipped with a special predisposition for connection to a high-capacity external tank, provided by the customer.
The total access to the main components from the side doors makes control and maintenance operations easy to carry out. In addition, all units are equipped with strong support feet, reinforced door key locks, slots that allow condensation to be drained from the cooling ducts.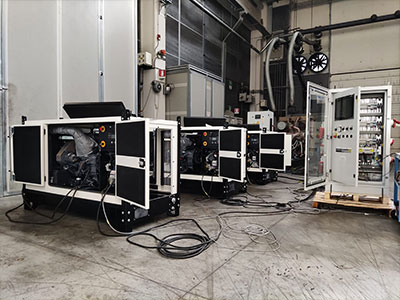 The Fox series is versatile and particularly suitable for the Telecommunications sector, it is the result of years of research and development. Visa highly-qualified telecommunication division is at customer's disposal for the complete design of the electrical supply referring to new applications and also to restore existing plants, supporting the clients from the initial stages to the final product, selecting the right genset and its equipment, as well as the choice of different components such as control panels, battery boxes, rectifiers, BTS, etc.
The design of the electrical parts of the complex system requires an absolute integration of all the elements involved in the project, perfectly interfacing communication towers and complex system.