VISA GENSETS SPECIAL SUPPLY FOR A MODERN URBAN COMPLEX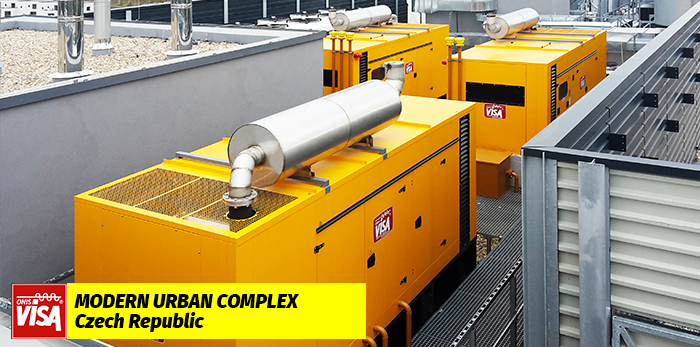 VISA SpA, through its local distributor, has been recently involved in a major contract for the supplying of various diesel generators.
The units are installed in a big and original complex, a former aircraft engine production facility in Prague, Czech Republic, of more than 169.000 sq m. Thanks to the ambitious project by an investment group, it was recently transformed to a contemporary urban development. The site consists of five office areas (Aviatica, Mechanica I, Mechanica II, Walter and Dymanica), a modern and attractive residential district.
The units of Onis Visa generating sets installed on the "Mechanica I" building, will be owned by Johnson & Johnson and the gensets have been specifically sized for this purpose. All of them are installed as emergency power sources for the entire building consumption, including the Data Centre room (Johnson & Johnson server room), operating automatically in case of power failure, thus preventing any loss of data or functionality.
CASE HISTORY
DATA
DESCRIPTION
Project:
WALTROVKA Urban project - Mechanica I
Location:
Prague, Czech Republic
Power required:
3 x 400.0 kVA PRP (440.0 in stand-by) and 1 x 645.0 kVA (710.0 kVA in stand-by power)
Generator sets:
2 x model F 400GX, 1 x model DS 645GX
Purpose:
To prevent any losses caused by of any power supply interruption including loses of data and/or functionality of the IT equipment and ensure the highest level of availability of all related systems..
Technical specifications:
Generating sets equipped with Iveco and Doosan Diesel engines, Marelli alternators and Onis Visa Guard Touch automatic control panel. All units are equipped with an oversized fuel tank of 2.500 LT.
All gensets are installed as an emergency power source for the entire building consumption including the J&J server room.
Onis Visa Distributor in Czech Republic , provided not only the genset installation, but also the design, delivery and installation of the central control system for the power supply system distribution in main distribution panels.
The power supply system, including the genset operation of this building, is managed by the "control system" (BMS), designed, set and delivered by Visa distributor. Due to the high noise requirements in this area, the second stage of a noise exhaust silencers had to be added in all these gensets. The guaranteed maximum noise level of genset is 55dB at 7m at full load.
All genset have been installed on a building roof and because of the strict local security and fire protection requirements, and customer special requirements, all gensets have integrated 2.500 litres fuel tanks "GX OVERSIZED" version. This design provides long term autonomy operation and prevents any leakage of the liquids from the gensets using special genset frame (GX frame designed as a retention basin as a standard).
All systems, such the gensets control system "GUARD TOUCH", the Refuelling control system and Electric power distribution control system are interconnected and work in a group, communicate via the MODBUS protocol.
All gensets are connected to the automatic refuelling system which provides fully automatic operation allowing the genset operation for more than 24 hours at a full gensets capacity. This fuel system consists of the fuel filling point, double skinned storage tank (located on a basement), double skinned fully monitored piping system for the fuel distribution. This system also provides visualisation of entire fuel system hydraulic diagram including status of all sensors, valves, pumps, fuel tanks levels etc..
Project's aims:

This project needed a reliable and technically advanced solution capable to ensure not only high level of performance, but also to meet strict local security and fire protection standards and special customer requirements for long-term operation autonomy runtime of all subsystems.
Structure of the project:
The recent supply of machines is considered as a completion of a previous supply. In a fact not only Mechanica I building has Onis Visa installations. Other units of Onis Visa gensets are also installed in Mechanica II, Walter and Aviatica buildings, as follows:
Mechanica II :

1x F400GX -genset with Fiat Iveco engine, PRP 400.0 kVA with a fuel tank 800 litres (installed 06/2017)
1x F400GX –genset with Fiat Iveco engine, PRP 400.0 kVA , it will be installed in second phase (installation planed for 2018)
Walter:
1x F500GX - genset with Fiat Iveco engine, PRP 500.0 kVA with a fuel tank 950 litres (installed 07/2017)
Aviatica;
1x P1050S - Genset with Perkins engine – PRP 1000.0 kVA - installed 2015
1x V495GX - Genset with Volvo engine- PRP 495.0 kVA - installed 2015
1x V495GX - Genset with Volvo engine – PRP 495.0 kVA - (installation planed for 2018)

---
Visa SpA is the Italian main manufacturer of generating sets, that has been present in the market for more than 50 years combining its global experience with engineering expertise to provide, beside the gensets, directly or through its own distributors and dealers, also the complete support the customer may need to design the most profitable and appropriate technical and economic solutions, in accordance with the quality and environmental management system procedures. It grants the highest reliability which is a fundamental requirement in every installation.
The highly skilled and professional Onis Visa Partner and Distributor for Czech Republic has personally followed this project in all the various stages, supporting the final customer with high level service and a team of very qualified personnel. Their man focus was to meet the customer's needs and to find the best and reliable solutions. They provided not only the genset installation, but also the design, delivery and installation of the main electric power distribution control system for entire building.