AGRITECHNICA EXHIBITION - HANNOVER 12-18 November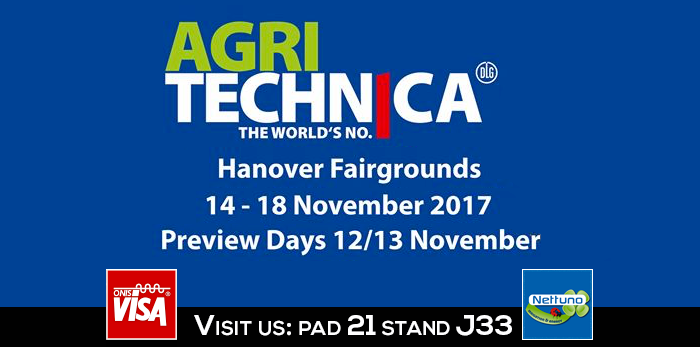 Also this year, VISA SPA will be exhibiting at Agritechnica Show, the leading trade fair for agricultural machinery and equipment, from 12 to 18th November in Hannover, Germany.
Visa Spa will be present through its own trademark Nettuno representing the company water division, displaying its self-propelled irrigation systems, high-quality motorpumps and complete and innovative solutions for agriculture and industry.
We would like to personally invite you and your team to visit us on our stand, located in Hall 21, stand J33.
A full team of Sales and Engineers will be present to answer any questions that you may have. If you are attending, please take the opportunity to visit us to see how we could support your business with our modern and suitable solutions. To make the most of these events, it's also a great opportunity to have a more private discussion on your specific needs. If you would be interested in setting aside a specific time and day for this to take place, please contact us at marketing@visa.it to make further arrangements.
To learn more about the trade fair, to get the program of events and conferences or even to register online, please visit the exhibition official website: www.agritechnica.com