AGRITECHNICA, Hannover 10-16 November 2019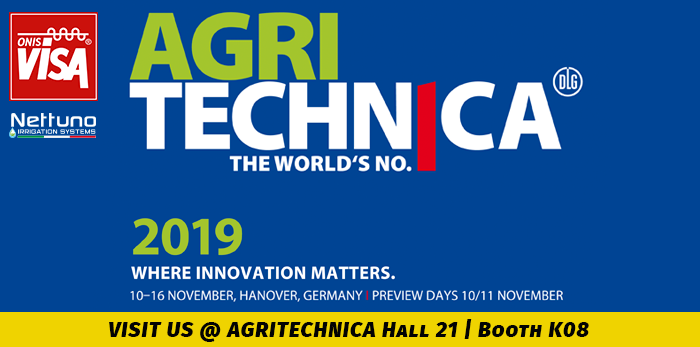 Agritechnica, the world's leading trade fair for agricultural technology is getting started in a few weeks in Hannover, 10-16 November 2019.
An important event where Visa SpA will be exhibiting presenting interesting news:  
The new Nettuno Duplex-S motor pump with submersible pump connected to an inverter that allows to pump water from up to 40 m.  Duplex-S is an evolution of Visa's popular Duplex series; the installation of a multi-stage submersible pump on this new version will guarantee to reach enough capacity and pressure levels to be utilized with the large majority of the irrigation systems currently in use.
The Duplex-S features also an Elcos CIM 137 control panel to remotely control pressure, via the GSM modem or the SMART Control app that Visa developed specifically for this product. When the motor pump is in operation, the control panel automatically monitors all working parameters and eventual alarms.
On the occasion of the exhibition, Visa SpA will also introduce its new Nettuno motor pump range Atlantic with Stage-V-compliant engines by Deutz and FPT Industrial.
This series is displayed in silent and super-silent version to significantly reduce noise levels, guaranteeing at the same time an easy access to all engine parts for maintenance. The chassis, that incorporates the fuel tank, features a special construction of the axle which grants the optimal suction height for the pump.
On all Atlantic motor pumps Visa SpA installs Hyppo, a special device to quickly prime the centrifugal pump. This device was designed and introduced by Visa for the first time in 2011, bringing an actual revolution into the market, since today many competitors offer this device for their products.
Additionally, Visa will also present during the Agrictechnica trade fair the logo restyling. The NETTUNO brand will have a new and fresh image: innovative and modern.
Come to visit us Agritechnica in Hall 21, booth K08, you will be the most welcome.