BAUMA EXHIBITION, April 8-14, 2019 Munich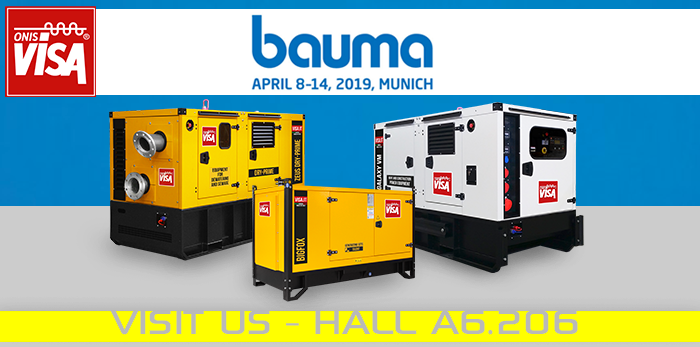 Bauma exhibition, the largest trade show in the world for the construction machines and mining industry, is round the corner. it will be held in Munich, Germany from 8th to 14th April 2019. 
It will be an unmissable event, the heartbeat of industry and innovation for construction, building material and mining machine industry in its full dimension. Visa SpA will be there displaying series of products and new items, developed for this sector, in different powers and accessories to meet the ever-changing demanding requirements. 
- GALAXY VM: A range of extremely robust generators, specifically designed for construction and rental sector. It represents an innovation in the sector of mobile applications, resulting from a constant and deep commitment of R&D team of engineers. All products are designed to meet the industry's toughest testing standards and grant optimum performance, durability and longevity to support all the specific rental market requirements: 
• Low noise emissions according to 2000/14/CE; 
• Low exhaust emissions according to (EU) 2016/1628 
• Special and flexible features: customers can count on highly customized applications, choosing among a wide array of accessories that allow the genset to adapt to many operational requirements. 
• NEW !!! Official introduction of the new compact parallel controllers models IN SYNC 200 and IN SYNC 500; by modifying a setpoint, it is possible to switch from Gen-to-Mains to Gen-to-Gen; PLUG-In modules for remote monitoring, user-friendly Software. In absolute preview, a machine for parallel equipped with IN SYNC 500 controller will be presented, featuring a 5" color display, graphic trends visualization and 4G/GPS card. 
- BIG FOX: it is a series of compact and sturdy gensets, low noise and extremely versatile. Suitable for continuous or emergency service, both for mobile and stationary applications, the BIX FOX range represents a reliable solution for all those projects where power as well as compact size are required. The Big Fox can be stacked in a 40'HC container. 
- MOTORPUMPS: the Zeus Dry Prime Motorpump has been designed and built on the significant specialist knowledge acquired through the company's lengthy experience in production diversification. The Zeus series vacuum assisted centrifugal motorpumps are developed to treat clean water, waste water and sewage containing solids in suspension. They are used mainly in construction, industry, manufacturing, mining and many other applications. At the Bauma exhibition, a specific motorpump will be displayed, equipped with the new Deutz Stage V engine, model TCD 2.2 , complying with the most recent  emissions directives, 6" Pioneer pump and the new Onis Visa Guard Motorpump 100 control panel.
To find out more about the many advantages of Onis Visa products, the showcased equipment and the benefits they can bring to your business, visit us at our stand HALL A6.206. A team of professionals will be there looking forward to meeting you.
If you want to make optimum of your time by planning your visit in advance, just contact us at marketing@visa.it to schedule a meeting.