CORTINA 2021 Alpine World Ski Championships VISA SPA TECHNICAL SUPPLIER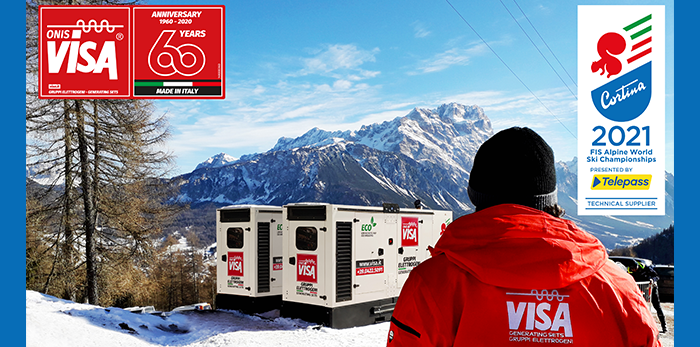 The 46th Alpine World Ski Championships took place in Cortina D'Ampezzo from 7th to 21st February, where Visa SpA was appointed by the organization team as Technical Supplier to grant all the back-up energy needed by the mains in the 14-day extraordinary event involving more than 600 athletes from 70 countries. 
The company had already handled global market challenges in all sectors, proving it is reliable and professional and is by no means new to top level commitments.
A powerful fleet of generating sets and light towers with different power levels and set ups was specifically developed for this unprecedented event. There were more than 50 units spread throughout Cortina to guarantee the exceptional power, 8 MW of energy supporting the mains, needed for the races, structures, slopes and events requiring energy at that level for the 500 million people watching live on TV from all over the world, along with the digital population watching online and interacting with new media.
The gensets were equipped with diesel engines by FPT Industrial, which is a partner of Visa since more than 40 years and Stamford alternators, both selected for their high reliability and quality.  
The units had a compact design and granted low emissions and noise levels; they were equipped with state-of-the art control devices enabling automatic starting and stopping, as well as parameters monitoring and diagnostic with constant feed-back on the units' status.
The machines ensured maximum performance and reliability, supported by a team of specialised Visa technicians on all plants 24H to provide assistance for the event throughout the World Championships, overseeing operations and ready to step in if required in case of need.
The Visa gensets were immediately put to test during the event's official inauguration on 7th February, dealing with an emergency: a medium-voltage substation near the ski finish area of the Olimpya slope failed due to a transformer fault caused by the extreme weather conditions as the first days of the event were hit by very heavy snowfalls. The swift response of the Visa generating sets provided the power grid with the necessary backup and enabled an uninterrupted supply of electricity to all the loads connected to the line.
The entire opening ceremony was also powered by the Visa generators.
Being able to celebrate as this long-awaited appointment was a great satisfaction for the company who was able to achieve a global performance result.
WATCH THE VIDEO!!