GEOFLUID 2018 -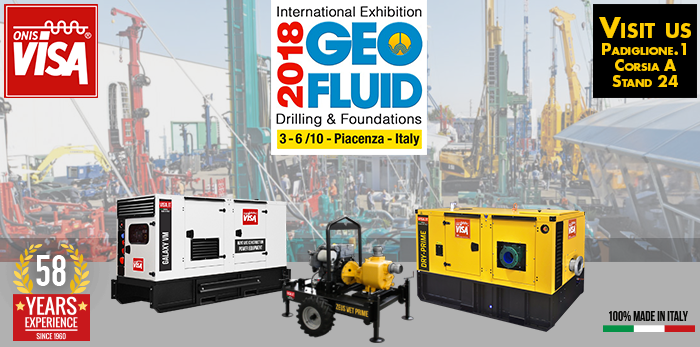 Visa SpA will be attending GEOFLUID the most important International Event for Drilling and Foundations Technologies and Equipment for Research, Extraction and Transport of Underground Fluids, from 3rd to 6th October in Piacenza (Italy).
It is a specific sector, which requires high performance, solid and reliable products. For this reason, Visa SpA will be displaying the following units, which are perfectly suitable in terms of functions and features:
Industrial Zeus DRY-Prime auto prime pump delivers fast dewatering solutions also to sites where a power source is not available. The industrial range of motorpumps suits various applications: these machines are best suited for transporting or lifting water with abrasive solids in suspension up to 80 mm. This series can be applied in construction and mine site dewatering, floodwater and stream diversions or sewage in industries and municipalities.
Industrial Zeus Wet-Prime self prime pump: this self-priming centrifugal motor pump is designed to treat clean water, waste water and sewage containing solids in suspension. Self-priming capability allows use without filling the suction pipe and avoiding the bottom valve. Therefore, these pumps can easily be used as a portable version, or when suction is required from tanks, or deep or distant channels.
Beside the motor pump series, which will be preview in Italy during the event, Visa SpA will be displaying another product particularly suited for this sector.
Generating set Galaxy VM Series: specifically designed for mobile use, it is suitable both for the emergency power supply and for primary energy source in continuous service. The Galaxy VM series complies with the strict European current directives focusing on the lowest noise and exhaust emissions. All generators are equipped with stage IIIA engines and are available in different levels of customization, according to your specific needs.
We will be pleased to meet you in our stand nr 24, aisle A, Pavilion nr 1 where you can personally see the products, discuss about your needs and find together the better solutions for your business.
Don't miss this event. We are looking to meeting you there!