IFAT EXHIBITION - Munich Germany - 30th May - 3rd June 2016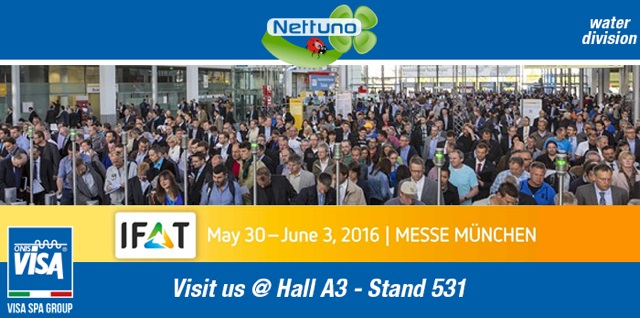 Visa SpA will be attending the IFAT exhibition, the world's leading trade fair for environmental technologies, for Water, Sewage, Waste and Raw Materials Management, that will be held in Munich, Germany from 30th May to 3rd June 2016.
We are pleased to be there, where you can find strategies and solutions for using resources in intelligent cycles in a manner that ensures their long-term preservation—with a great deal of success.
There is no a better occasion to officially launch our new project. A compact and innovative motorpump equipped with a volumetric Netsch pump. Don't' miss it!
Beside this special product that no doubt will capture your attention, you will also find our modern range of products. More specifically you will see the Zeus self-priming centrifugal motor pumps, designed to treat clean water, waste water and sewage containing solids in suspension.
Our engineering and sales team will be pleased to welcome you to illustrate all the innovative aspects both for Nettuno products and also for Onis Visa generating sets.
It will be a perfect occasion to meet each other, to talk together about the latest product news, as well as to answer all your questions.
Be there and get the chance to visit that important event, you will be the most welcome!
Our stand is 531, in Hall A3.
To learn more about the exhibition or to download your online ticket, visit the website www.ifat.de