International Motor Days supported by Visa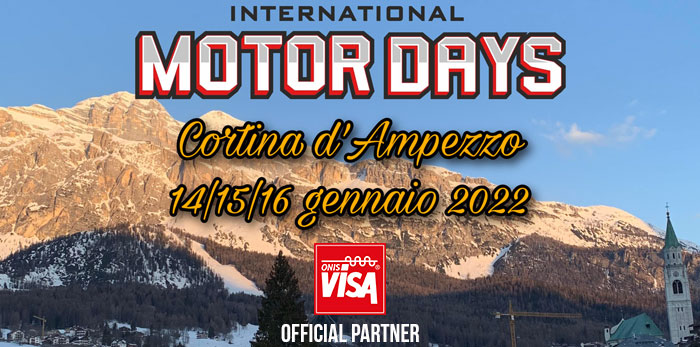 The International Motor Days is coming to Cortina d'Ampezzo, three days completely dedicated to challenges and shows granting high level emotions for all those who are passionate about motors. From 14 to 16 January 2022 the Pearl of the Dolomites will be the hearth of the event that will take place not only in Corso Italia in the city center but also in the snow areas of Fiames with car and motor shows and the possibility of carrying out many test drives both on paved roads and on snow. Style and entertainment will be granted thanks to routes specifically designed to simulate extreme situations through off-road experiences, test drives, free style motorcycles and quads, combined with activities related to driving safety and road education courses. All of that will be completed with good music for a great evening entertainment.
Visa will be the official technical sponsor supplying a series of generating sets supporting the mains needed for the refreshment and the stage areas, as well as light towers to illuminate slopes and special driving routes.
Cortina is the prestigious intermediate stage of the fifth International Motor Days' edition, which started on 17-19 September in Civitanova Marche (MC, Italy) and will continue to Miami, performing the overseas edition on 1-3 April 2022 a few days before the Formula 1 race scheduled in Florida.
The vent in Cortina will also focus on issues related to environmental sustainability and technology. Visa SpA was chosen not only for the reliability of its products but also for the attention to environmental protection issues proposing generating sets that feature low environmental impact aimed at preserving as much as possible the nature and uniqueness of a so extraordinary territory.