MIDDLE EAST ELECTRICITY 2019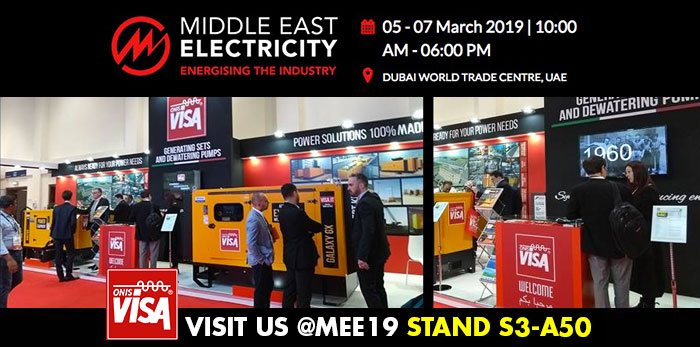 Visa SpA will be present at the upcoming Middle East Electricity 2019, the region's leading annual international trade event for the power industry, from 5th to 7th March 2019, that will bring together the best opportunities in power generation.
We will be there showcasing our products and would be more than glad to share ideas and opinions also during the "one-to-one" meetings.
Over the course of our company's many years of experience, we have learned that every project comes with it own distinct requirements. Developing and innovating across all products ranges, the Visa team of engineers work alongside distributors and clients, learning from them, since they are the real experts who use the generating sets every day and who are capable of identifying the various demands of a constantly-evolving market.
Join us in our stand nr.  S3. A 50, to know the innovative products and projects, our team will be pleased to welcome you during this unmissable event.
Middle East Electricity will be a perfect occasion to meet each other, to talk together about the latest trends and, more important, to listen to your specific needs and find the most suitable solutions.
If you want to make optimum of your time to MEE, plan your visit in advance by contacting our marketing department at marketing@visa.it to schedule an exclusive time for your, avoiding long distances between appointments.  
See you there,  where the international key players meet, where significant new developments are presented.