MIDDLE EAST ELECTRICITY , DUBAI, 14 - 16 FEBRUARY 2017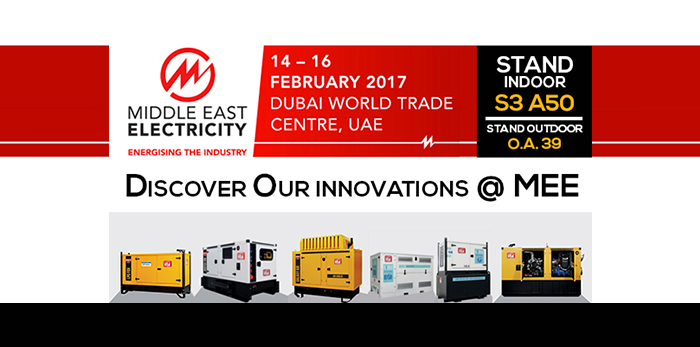 Also this year Visa SpA won't miss its attendance at Middle East Electricity 2017, the exhibition , at the Dubai World Trade Centre, from 14-16 Feb 2017, that will bring together the best opportunities in power generation.
In fact, it is right in this occasion that Visa will be officially presenting exciting innovative products and major projects that are currently still covered by secrecy. Only a few details can be revealed regarding these new products ahead of the event.
The AirFOX range: a series of air-cooled machines equipped with Deutz engines, adaptable to all environmental conditions. Can also be integrated with renewable energy sources.
The LPG range: a flexible and versatile new series of gas engine generating sets, created in partnership with leading manufacturer Perkins Engines, in order to respond to the demand for cleaner, more reliable power, with guaranteed low costs and continuous power generation. This kind of generator has proved a big success in areas where carbon-emissions and noise are a factor, in addition to cost.
Dry Prime Motorpump Range: building on the significant specialist knowledge acquired through the company's lengthy experience in production diversification, Visa SpA is currently focusing its attention on construction equipment for dewatering and sewage, offering a complete series of dry prime pumps. This range represents the perfect mobile solution for transporting or draining water with abrasive solids in suspension and can be used across a range of applications.
The Hybrid Power Module and Hybrid Battery Module two innovative solutions officially presented during the recent November edition of Africom, the largest and most influential Africa-focused tech event in the world – will once again be showcased in Dubai, with a new range of features for this ground-breaking hybrid technology.
In addition to all of this, Visa SpA will also be introducing two units of the widely-recognized VM range , for the construction and rental sectors.
Visa sales team and engineers will be more than pleased to welcome you and talk about the new products in details and discuss together about the best solutions for all your specific requirements. Don't miss the chance to drop by our stand and have a talk in a pleasant and exciting place.
Stand S3 A50 (indoor) or O.A 39 (Outdoor)
Make your visit an event to remember! We would be delighted if you could join us there!