NEW ORDER TO SUPPORT TLC NETWORK IN NORTH AFRICA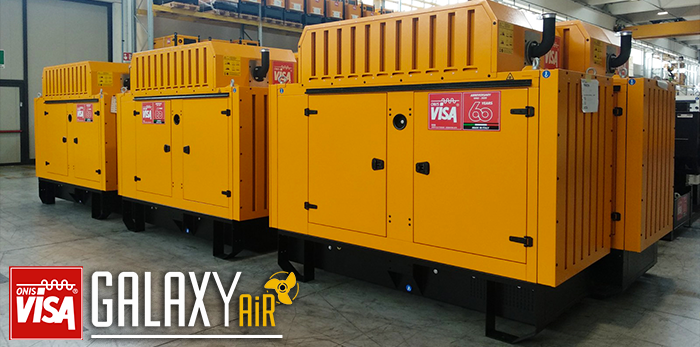 Visa SpA is getting ready with the last details referring to the new supply of 6 units of generating sets for a special application destined to a Government Agency in North Africa in support to a communication network.
CASE HISTORY
| DATA | DESCRIPTION |
| --- | --- |
| Project: | COMMUNICATION NETWORK FOR A GOVERNMENT AGENCY |
| Location: | North Africa |
| Power required: | 360.0 kVA in P.R.P. Power |
| Power installed: | 360.0 kVA in P.R.P. Power |
| Generator sets: | 6 x GALAXY Air DA60GX |
| Dimension: | 1040 x 2260 x 1950 mm  (W x L x H) |
---
Purpose:
Guarantee high level of quality and reliability, assuring a remarkable low noise level.
Onis Visa Galaxy Air model Da60 GX was specifically chosen since it is particularly adaptable to any kind of environmental conditions, including extreme heat and dust and can be used for long-run operations.
Technical specifications:
The supply consists in total 6 units of genset, fitted with Deutz Air cooling engine, model F6L912, coupled with Mecc Alte alternator model ECP 32 2 M4.

Control Unit
Deep Sea control panel DSE 7320, Auto Mains Failure Control module suitable for a wide variety of single genset applications. Monitoring an extensive number of engine parameters, this module displays warnings, shutdown and engine status information on the screen, remote PC and via SMS text alerts (with external modem).
Engine features:
Considering the type of application and the specific requirements of the site, an air-cooled 6-cyliner naturally aspirated engine has been chosen: the cooling system is simple and less disposed to cause system failure, minimizing general downtime and requiring less short-term engine maintenance. It grants low fuel consumption and long life which optimizes the running costs. It also has low noise emissions due to acoustically optimized components with very smooth running and high durability.
Configuration:
Air inlet: two openings guarantee good cooling air flow. The air intake is located in the back and in the front for engine cooling.
Air outlet: the hot air and the exhaust fumes are expelled from the front top part of the canopy for a good air recirculation.
The Galaxy Air baseframe is equipped with a retention basin, integrated fuel tank and fuel level sensor. A convenient external plug allows any liquid collected to the emptied easily.

Soundproofing:
An important aspect specifically requested by the customer was the noise reduction. For this purpose, the technical team has suggested the Galaxy sound proof canopy granting 75 dBA at 7 mt. to meet the indications stated by the contract specifications. It is sturdy and extremely versatile, representing a reliable solution to fully satisfy any kind of needs and for all those projects where power as well as compact size are required.
---
WHY CHOOSE VISA
Choosing Onis Visa products means reliable products you can count on, combined with the guarantee of expert local support which comes with every project Visa delivers.
Specifically, telecommunication companies recognize Visa SpA as a big player in the sector thanks to its innovative products and technologies for generators deployed globally, where it is particularly critical to improve energy efficiency
---
GALAXY AIR RANGE