Offering solutions to cope with the COVID 19 emergency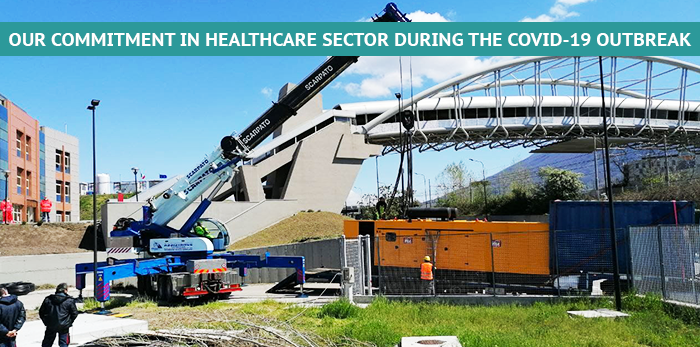 OUR COMMITMENT IN HEALTHCARE SECTOR DURING THE COVID-19 OUTBREAK
We are working even more intensely to deal with the COVID 19 emergency through special supplies suitable to support hospital structures and health centres, sorely tested by the virus outbreak.
The electricity generators serving the healthcare units are working at their full capacity to guarantee the extraordinary required operational functionality for all the delicate structures involved, in the effort to fight and contain the epidemic.
These are highly reliable technological machines that are constantly supporting the exceptional protocols put in place at this time to ensure to cover all the increased requirements of power supply, above all in critical areas and intensive care units.
Every supply, whether for sale or provided through the efficient rental service, is customized according to the specific needs of the healthcare facilities so that they can count on uninterrupted and reliable energy supply, especially coping with such dramatic and difficult situations.
Some Example:
ITALY - Temporary Covid-19 center in Naples

PAKISTAN - Hospital and Infectious Treatment Centre in Islamabad

ENGLAND - NHS Trust in England 1.5MVA Prime rated for critical support

ITALY - ASL SALERNO @ AGROPOLI

ITALY - ASL SALERNO @ San Giovanni di Dio e Ruggi d'Aragona