Onis Visa @ Fieravicola 2015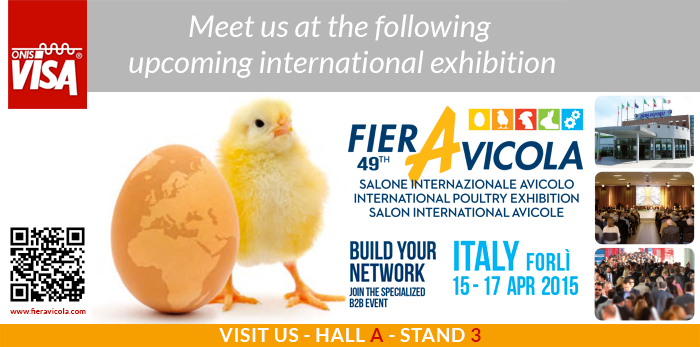 Visa will be exhibiting at Fiera Avicola, the 49th International Poultry Exhibition, that will be held in Forlì, Italy from 15th to 17th April.
With over 300 exhibitors, more than 30% from overseas, and an exhibition area covering over 20.000 m2, FierAvicola once again confirms its place as Italy's leading trade show and one of Europe's most high-profile B2B events for the poultry sector.
This specialist event is the ideal meeting place for poultry industry experts, making it the perfect strategic shop window for furthering international professional and business relations, not least because of its central location between the markets of Eastern Europe and the Mediterranean.
FierAvicola continues the mission that has placed it among the most high-profile international livestock trade fairs and the goal for the edition of 2015 is to present and enhance the excellences of the field, pointing out the quality of the whole productive process up to the end product.
A rich program of technical, scientific and business seminars and a deep agenda of activities dedicated to the international visitors complete the offer of the unmissable showcase of this exhibition.
So don't miss this event, come to visit us at our booth 3, Hall A.
You will be the most welcome!
For further details about the exhibition, visit the website: www.fieravicola.com