ONIS VISA GENSETS DISTRIBUTED IN LIBYA TO HOSPITALS AND MEDICAL CENTERS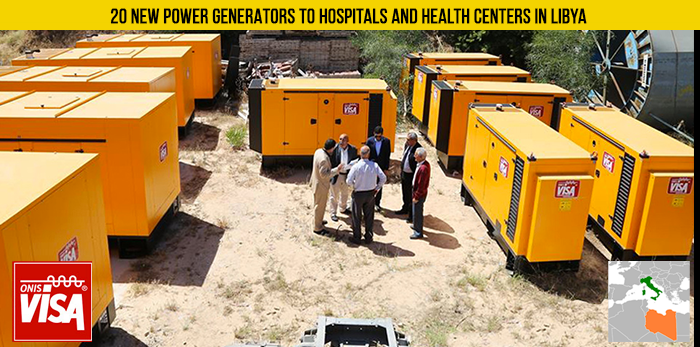 Visa SpA has recently supplied 20 power generators to a number of public, specialist and village hospitals and health centers in Libya ranging from 250.0 to 500.0 up to 1000.0 kVA, through its distributor. The operation was officially announced a few days ago by the Presidency Council's Ministry of Health.
The Ministry said that the provision of medical services had been affected in most health facilities due to the long and acute power cuts that has been occurring across Libya since the 2011 revolution, and as a result, its Emergency Committee has addressed the crisis by allocating the required funds needed.
These kinds of gensets have been designed to be the main source of supply in areas where there is no Mains electricity grid or where power supply is intermittent, where the ambient conditions tend to be very challenging and hence a quality product operation in such an environment is critical.
All the units come in the Super Silent version and equipped with a specific kit (the so called Desert Kit) designed to guarantee the highest level performance for extreme weather conditions, featuring a unique combination of efficiency and robustness.
Delivering fast and efficient service is one of Visa Spa's top priorities. Thanks to Visa's hard-earned experience and to the efficient and skilled support of its distributor in that area, customers receive the necessary back-up support and service in those regions where the network is often broken up or in some cases even inaccessible.
The distribution of the Onis Visa power generators to Libyan hospitals comes as part of a wide reform plan for Libya's health sector announced by the Presidency Council.