POWER FORWARD EVENT LATAM 2019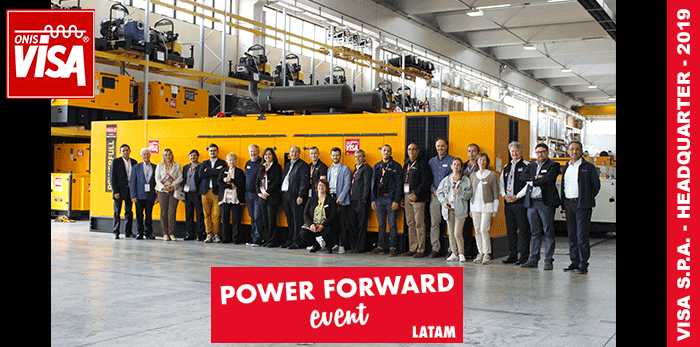 The recently concluded Power Forward Latam Convention was an event to celebrate distributors, clients and partners from various countries in South and Latin America, who came together at Visa SpA's headquarter for an enjoyable and informative occasion.
In addition to the opportunity to strengthen key relationships with new and existing clients, it was a great opportunity to reconnect with old friends in a relaxed setting, creating a positive ambience for exchanging ideas and feedback on product offerings, sales strategies, and pre and post client services. Above all, Visa embraced the chance to listen to the guests, who are each experts in their respective sectors and markets.        
One of the goals was the continuing contribution to the quality of the company's client services and support. The event topics ranged from the company and its subsidiaries, to an overview on ranges, power nodes, applications, custom projects, new product and norms introduction. New engine product was unveiled as well as insights into compliance with the latest emission regulations and the restriction of the use of certain hazardous substances in electrical and electronic equipment.
The guests showed a special interest in the Hybrid System, specifically designed for serving the telecommunications sector. All participants were eager to participate in the working session to experience the countless advantages and versatility of this smart solution firsthand.
The meeting included a tour of the manufacturing facilities that took in state of the art equipment such as laser metal cutting, hydraulic bending and robotized welding machines, as well as the modern powder coat painting plant. All metal works processes are found within a single plant that applies vertical integration strategy for independent operation and to maintain control of each stage, guaranteeing a high standard of quality. The tour also included a visit to the motor pump and dewatering product assembly area and the plant dedicated to the electricity generators, with small, medium and large assembly islands according to the Lean Manufacturing guidelines Visa adopts. The main components warehouse was also showcased, where 1000 engines and 1000 alternators are available to reduce lead times and assure prompt delivery.
The tour ended with a visit to the modern test bays where the guests participated in and observed simulations, working sessions and tests. The test room "training sessions" were the highlight of the day.  
 The day ended with a gala dinner in an exclusive location where evening entertainment encompassed good company, awards, music and a few charming and unexpected surprises along the way, making the event memorable. 
The following day was dedicated to exclusive one-on-one meetings and round table discussions regarding issues specifically related to our partners markets, applications and any concerns.
A warm thank you to all our partners and friends who attended the Power Forward Latam Convention and gave their contribution to make the event a success and uniting us as a truly global family.