POWERING THE FIFA WORLD CUP RUSSIA 2018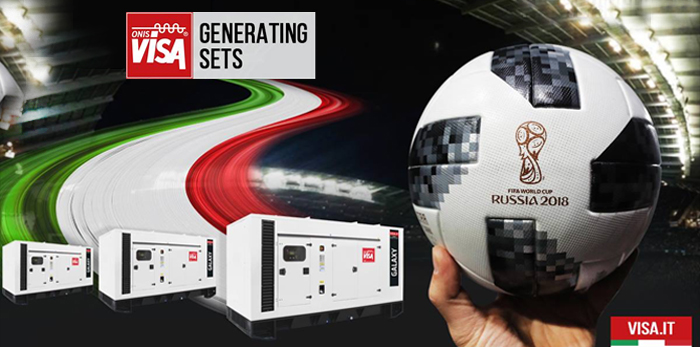 In addition to our innate Italian passion for football, especially when played at so high level, Visa Spa has an additional good reason to be so excited in following the FIFA WORLD CUP RUSSIA 2018. It is particularly proud to be actively involved having provided 16 units of 650.0 kVA gensets destined to the event.
The generators were requested to meet the demand of power increase during the match days, supplying power for the large LED pitch boards which carry the sponsor's messages, as well as to run the advertising boards and screens. Due to the high profile nature of the matches, associated sponsorship and TV exposure, it is absolutely necessary that power does not get lost at any time.
The project was studied in details to configure a suitable power system able to fully complying with FIFA strict demanding requirements, to generate consistent, high efficient power for uninterrupted coverage, whatever the conditions. All the 16 generators are equipped with Perkins engine and Stamford alternator, including an integrated 950 Litres fuel tank and, because of the high profile of the event, they also count on a cutting-edge control device, incorporating the latest technology for online real-time monitoring and management of fuel consumption, performance statistics and servicing schedules. The gensets are fully synchronized together to allow them to work in parallel, one to take the load and the other to provide back-up power if required at any time.
Beside their unquestioned performance, the Onis Visa gensets were also chosen for their outstanding soundproofing features, producing low noise pollution and reducing any inconvenience that could be caused to nearby citizens.
The supply of reliable power for the broadcast media at a high profile global sports event such as the FIFA WORLD CUP is critical for the success of the tournament, where hundreds of thousands of fans watch the games at stadiums while other hundreds of millions worldwide watch them on their TVs. Among the millions watching, we are undoubtedly there to support and cheer. May the best win!