Providing power for a private palace in Kuwait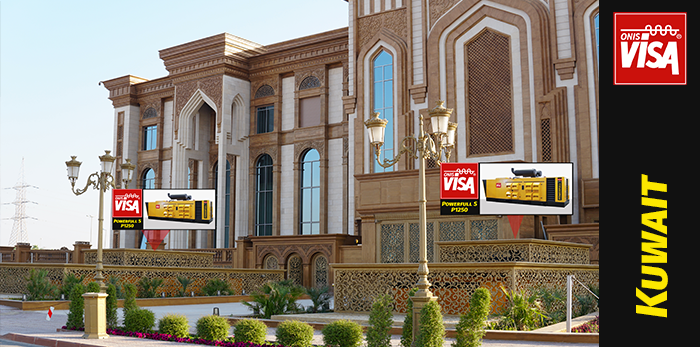 VISA SPA has achieved another goal and completed a project by supplying generators to provide back-up power for a private palace in Kuwait.
CASE HISTORY
| DATA | DESCRIPTION |
| --- | --- |
| Project: | PRIVATE PALACE |
| Location: | Kuwait |
| Power required: | 3,65 MVA in P.R.P. Power |
| Power installed: | 3,65 MVA in P.R.P. Power |
| Generator sets: | 2 x P1500S - 1 x P650GX |
| Dimension: | 2200 x 9380 x 3400 mm  (W x L x H) |
The project officially began in 2016, with the acquisition of the whole project by their official distributor and dealer in that country. Starting from then, the company staff carried out a series of site-surveys to in order to understand the most appropriate equipment to fit the peculiarities of the site and the specific client's plant requirements.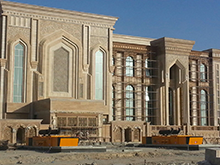 During those on-site inspections, the Visa team worked strictly in contact with distributor and customer himself, and thank to this cooperating in developing the single stages of the project, it was possible to provide the right solutions and equipment to cover all the specific needs. Customer had always been himself active part of this development, representing an extraordinary motivation for improvement and continual innovation.
After different analysis on site about the peculiarities of the plant, the R&D team of engineers decided to divide the loads of the palace in 3 lines, selecting 2 generating sets model P 1500 S covering the two big lines and 1 generator model P 650 GX for the smaller one.
The final customer had some expectations for their backup power system.
TECHNICAL SPECIFICATIONS:
All units were equipped with Perkins engines and Stamford brushless and self-exciting alternators. More specifically, the 2 units of  model P 1500 S, were powered by 12 Cylinder, 4000 series engines with tropical cooling system and producing 1500 kVA each one, the units is said to deliver "superior durability with optional access for ease of installation and maintenance servicing".  Each machine was installed with an external fuel tank of 2500 Litres complete with retention basin,  placed on the back side to grant long operating autonomy and limiting, at the same time, the overall dimensions as soon as possible to fully comply with the strict project directives.   

CONTROL PANEL:
The specifications for this project included a remote start control panel. These gensets come into operation automatically when there is a power failure, guaranteeing a reliable and efficient supply.
This panel was provided with remote communications to make and monitor operations much easier.  The client can monitor and start up these generators via his mobile phone. In case of a power shortage, the genset can be managed  via application directly in front of computers or even if he is on the go.
SPECIAL CONFIGURATION:
DESERT KIT: The job was considered demanding also due to the climatic conditions. This was where the function of the generator sets assumed an important role. Temperature of 50°C in the shade added to the challenges. The Onis Visa gensets can endure so high temperatures and are designed to operate in dusty environments too. For this project, the units came with a specific kit for extreme weather conditions, suitable to meet the industry's toughest testing standards and grant optimum performance, durability and longevity.
Model P 650 GX was also equipped with Perkins engine and Stamford alternator, featuring also specific side aspiration openings in order to avoid any derating in case of high temperatures.  

CHALLENGES:
The project presented two additional technical concerns:
Sound requirements were one of them. "Our highly skilled and experienced team took great care to ensure that full account was taken of environmental concerns, as the mansion location meant that the genset's noise levels must be kept low", said a company spokesman.
The other issue was that all the machines were to be installed in external areas but positioned inside specific decorated huts to host and cover them, limiting their impact in the environment. For this reason all generators had to be carefully dimensioned in accordance to the space available.  
WHY CHOOSE VISA:
Delivering fast and efficient service and the best solutions from a consistent and deep commitment of R&D team are among Visa 's top priorities, offering 24/7 services, provided by expert engineers and technicians who take pride in ensuring that customers receive service and back-up support that they expect.
All the diesel gensets were delivered, installed and commissioned in 2018 to their scheduled,  demonstrating the company ability to work to stipulated project deadlines.
Visa Spa engineers had been constantly in touch with customer and dealer, following step by step the different stages up to the final installing and commissioning ensuring the successful out coming of the whole project.