TECHNICAL SUPPLIER OF WORLD SKI CHAMPIONSHIPS CORTINA 2021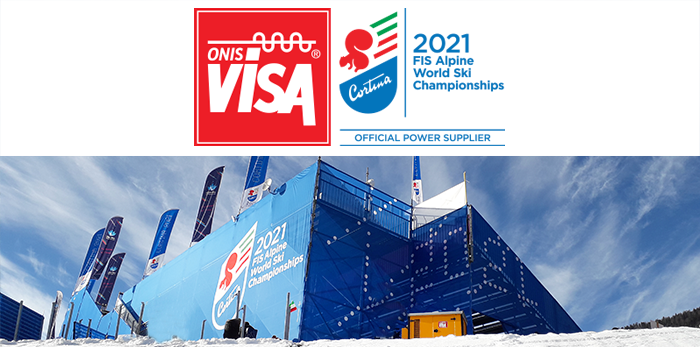 The Championships consist of 14 days of male and female downhill races, Super G, giant, slalom and, for the first time, individual parallel, expecting to bring over 600 athletes from 70 nations to the Cortina d'Ampezzo area, ready to win the world titles up for grabs.

The assignment in CORTINA 2021 is a strategic collaboration that develops behind the scenes of the world stage; Visa will supply an entire fleet of generating sets, differing in power nodes and versions to guarantee reliable back-up energy to the national power grid.

The company's commitment is not only limited to the races itself, but is extended to all the activities related to the Championship. Technical plants, broadcasting centres, telecommunication systems, hospitality structures, etc will all have support.

Thanks to the wide range of units and a highly specialized technical team that will be present throughout the event, back-up energy is ensured for the over 150 thousand people expected to turnout for the 14-day event and for the approximately 500 million people connected world-wide watching on their TVs or digital devices.

Reliability without compromise is the mission that stems from Visa's long experience gathered in 60 years of activity. Standing out in the global market place for its excellent product diversification, has helped Visa develop a range of generators specific for mountainous regions, that are a combination of technological innovation and environmental awareness.

Visa's great passion for the mountains in its homeland combined with support for sport, have led the company to be the official Partner of the International Ski Federation (FIS) in the last several years. Visa is also the technical sponsor and supplier of other competitions and Ski World Cups around the Dolomites.

Visa Spa is aware that the Alpine World Ski Championship in Cortina is something special that goes far beyond the sporting aspect; CORTINA 2021 is a challenge knowing that the eyes of the world are watching. An ambitious project and an extraordinary opportunity that requires uncompromising reliability at the height of an international sporting event.


VISA SPA: ENERGY, POWER AND CARE FOR A WORLDWIDE PERFORMANCE.