Visa SpA celebrates its 60th anniversary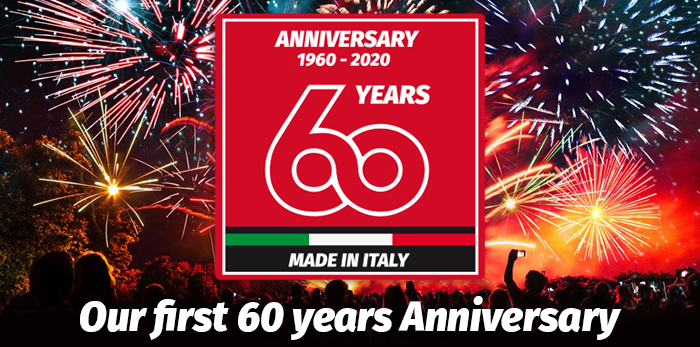 It has been supporting power generation needs since 1960 and the company's dedication, commitment and product quality have been rewarded.
Today Visa employs more than 300 people and manufactures state-of-the-art machines at its factory in Fontanelle, North East Italy.
It is a story that started a long time ago
Benvenuto Barro was born in 1930, the tenth of eleven children. After having completed the 5th grade, the young boy left elementary school and became an apprentice in a mechanic's workshop, repairing and selling cars.
Thanks to his passion for mechanical engineering and natural ability in repairing vehicles, radios and other electrical equipment, he became very competent and skilled in a short time. This allowed him to open his own workshop at the age of 20 that specialized in repairing automobiles and trucks.
In the 1960's, his foresight and intuition helped him spot the energy needs of a budding Italian industry. He decided to provide generator sets for the emerging energy sector, thus developing a manufacturing activity as well as a rental service for the units. At that time, he was one of the first manufacturers in the sector.
Italy did not have manufacturers specialized in industrial generator sets back then. At the beginning, Benvenuto Barro modified second-hand engines from trucks or Italian engines used in agricultural applications to start his production. Thus, Visa was born.
From a small company to industrial group across almost 100 countries
A history of continual growth whose stages draw a remarkable technological and innovation evolution. In the 1980's, there was the generational change from father to sons, Lorenzo and Marco. At that time a number of Italian companies started to engage in the growing generating set business, so the brothers decided to distinguish Visa from their competitors and focused on becoming a technology and quality leader. They also knew they had to widen their focus from the domestic to the international market to become a leading brand in the business.
Over the years the electric power market has evolved and Visa has continued its journey in that direction, where seriousness, quality products and worldwide services have been rewarded globally.
Visa is now active in almost 100 countries and 5 continents, directly or through its dealers and partners.
It has constantly invested significant amounts in incorporating new facilities, as well as different activities. In 2009 Visa moved into the new 34000 sqm production plant, where a large space was dedicated to the efficient and safe stock of production components. In particular, two entire buildings were earmarked for the storage of engines and alternators where temperature is controlled to protect the production. More than 1000 engines and alternators are always available in stock to allow flexible production and fast deliveries, an investment to reduce delivery times. Visa also has constantly in stock finished standard products kept near the shipping area used to fill up containers or trucks at the last minute.
A turning point towards continuous growth
In 2016, the expansion and investments continued by incorporating Valmec, specialized in the production of sheet metal parts for industrial machinery and equipment. This operation enabled the company to increase the production areas going from 34000 to 45000 square meters granting the entire production process under one roof. The modern facility contains cutting-edged technology including laser metal cutting equipment with robotic loading and hydraulic automatic bending machines, as well as an ultra-modern painting plant.
Manufacturing most of the components in-house according to vertical integration and applying the Lean Manufacturing logic ensure maximum control over production processes, offering a high-level of tailor-made solutions, reducing costs and having a greater control over the delivery deadlines.
---
Historical video - WATCH NOW!!
The Visa Group
The Visa Group consists of different companies:
ONIS VISA; Power solutions: generating sets, industrial pumps and lighting towers
VISA RENT; Hire department: it offers a fleet of 300 sound-attenuated generators of recent production active in supporting any kind of emergencies and temporary power needs
NETTUNO; Water department: Hose reels, irrigation, motor pumps and Pto driven for agricultural sector
METEOR; Noise absorption materials department: it is specialized in the production and distribution of sound-proofing material and acoustic containment products
VALMEC; Metalworks department: it is specialized in the production of sheet metal parts for industrial machinery and equipment
Thanks to this important production diversification Visa has managed to acquire an important know-how in different sectors other than standard electricity generation, giving way to new ideas and project developments to fulfill even the most complex applications.
Visa SpA today
Even today, all the companies in the group share the same common goal: to innovate while remaining faithful to their origins, adhering to the company's philosophy and tradition in dealing with human relationships.
Visa SpA has always focused its attention on the ever-changing demands of the global market, adjusting productive policy and sales to the many economical changes that have altered the international scenes over the years, always with the strong awareness that quality cannot be compromised and each product is designed for a particular region, respecting the specific characteristics of the different geographical areas. It also offers complete power packages including design, installation, operation and maintenance.
Thanks to that vision, today the Onis Visa product with its many variations, is amongst the most versatile and complete available in the market, representing one of the finest expressions of Italian technology.
The founder's innovative and entrepreneurial spirit can be seen throughout company's history. We are very proud to have been able to mark our first 60 years. It is unusual for a company to mark such a success, especially in a field that has always been so competitive. We do feel that we have been able to do it by sticking to our values and to the things that we consider important: a combination of constant technology and innovation, as well as awareness towards environment.
Seriousness, reliability and high-quality outline our company's profile, where export represents 90% of the production, with more than 5000 units produced annually and more than 105 million Euro in turnover.
Such characteristics are confirmed by the high-level loyalty of Visa Clients, who can always count on a full commercial and technical support delivered by highly-skilled staff as well as constant professional training courses on products and maintenance. Besides, continuous internal staff training and research translate into a great capacity for innovation and excellent technical advice for clients.
Visa SpA has always invested in cooperation with its suppliers who are considered reliable partners and are an important part of the company's development. Thanks to agreements with them it is able to provide the most appropriate solutions equipped with the best components to cover all the specific market needs.
And customers are themselves an active part in this development, representing an extraordinary motivation for improvement and continual innovation. They are the real experts in the market and Visa has always worked closely with them to understand their requirements and develop the most appropriate application solutions.
It is with its Partners, with its Customers, with all its Employees and their Families that Visa SpA wants to share this success and it is to them that it wants to say thank you, continuing to build on those values that are foundational to the company's long-term accomplishment.
A clear example of how far Visa has developed over the past 60 years is the trust placed to supply generators for special applications, in which extraordinary commitment, ability in project realization and extreme reliability are requested, such as special supplies for Data Centers, military contracts, Civil Protection, hospitals and special health care structures, telecommunication companies, airports, government ministries, public organizations as well as many important sponsorships and technical support, just to name a few: MTB European Championships in 2015, the FIFA World Cup Russia in 2018, the FIS SKI cross world cup 2017-2018, the cycling road race "Giro d'Italia", or even the 2021 FIS Alpine World Ski Championships in Cortina d'Ampezzo, where Visa will supply an entire fleet of gensets, differing in power nodes and versions to guarantee reliable back-up energy to the nation power grid.
All these achievements have consolidated the company's leading positions in growth sectors across the world, particularly in Europe, Middle East or in Africa where Visa has made a determined effort to underpin the economic growth, considering that between 2015 and 2017 alone Visa supplied more than 2500 gensets in that continent.
A commitment which is shared by all the personnel who form part of the company and which is confirmed in their attitude to add value to any projects.
The world has changed a lot since the day that Visa Spa first opened for business, but the company's commitment to its mission and vision remain the same, as well as its motivation to embrace the future challenges.
These first 60 years of history can be easily summarized in the slogan "Synergy of people producing energy": it is to say a practical meaning related to the production of electric current, but also a deeper intellectual sense, referring to the positive vibes transmitted by a team of designers, workers and professionals who move towards new challenges and ever better products in terms of technology and quality, looking ahead to the next 60 years.