VISA SPA PROVIDES THE TECHNICAL SUPPORT TO GIRO D'ITALIA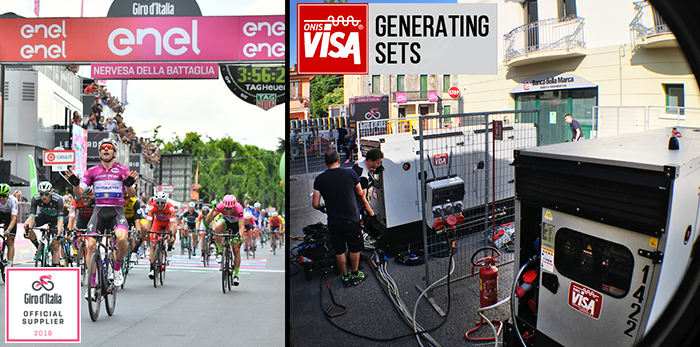 VISA SPA is proud to be, also this year, the technical supplier of the Giro d' Italia (Tour of Italy, aka the Giro) the annual multiple-stage cycling race that is usually held during late May and early June, that is so popular that it has become part of Italy's history in the field of sport, narrating us across the world.
While the route changes each year, the format of the race stays the same, with the appearance of at least two time trials and a passage through the mountains of the Alps including the Dolomites. Like the other Grand Tours, the modern editions of the Giro d' Italia normally consist of 21 day-long stages over a 23-day period that includes 2 rest days.
This year the event celebrates its 101th edition, a surprising one: for the first time ever, a Grand Tour sets off outside Europe, more precisely in Jerusalem and finish in Rome on the 27th May.
Visa SpA is there to provide the necessary technical support, powering this important sport event by supplying energy and technological excellence of the "made in Italy" capable of competing on the international markets, always paying attention to energy as well as caring for the environment.
To find out more and discover the route of the Giro d' Italia, go to: