VISA TECHNICAL SUPPORT IS FULLY ACTIVE IN ANY TIME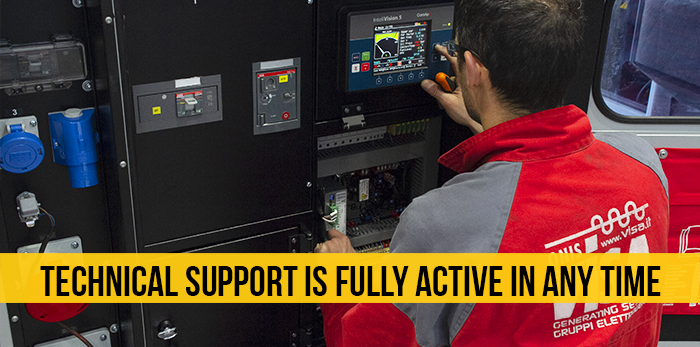 Despite these difficult times, we look ahead with optimism to provide the very best service possible.
Our technical support service is working tirelessly 24/7 to bring support to those essential structures in many sectors that cannot stop, such as Civil Protection, hospitals, medical equipment manufacturers, industries, food distribution and all those business activities for essential supplies that are currently operating for our health and safety, and to which we turn our deepest thoughts and thanks.
Now it is the time to be more focused than ever, continuing to assure the best service quality, side by side to our customers and partners.
In addition to granting concrete immediate interventions, technical support and after-sale service on site by plants and structures with highly qualified personnel, our exclusive SuperVisorPlus active supervision service is always fully active worldwide, provided by our service department which intervenes remotely, if necessary, detecting anomalies and advising on solutions and planning interventions, before they could become critical.
We are proud to give our contribution and support, to help coping with any emergencies, more than ever during such difficult times.