What's new at the Middle East Electricity 2019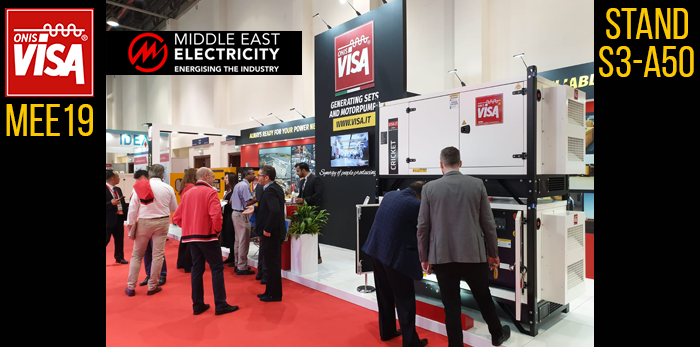 This year Visa SpA will be presenting some interesting peculiarities and features on its range of products, with different powers and accessories.
GALAXY GX + DESERT KIT SPECIAL ACCESSORY: 
The established Galaxy range represents an effective solution for the harsh environmental conditions. It features lateral air intakes which raise the air inlet significantly reducing suction force and limiting water, dust and sand entry. Moreover, it is equipped with a specifically designed kit for extreme weather conditions to meet the industry's toughest testing standards and grant optimum performance, durability and longevity.
CRICKET RANGE: The main innovative aspects of this series are:
- Optimised canopies and baseframes suitable for high temperatures
- Measurement optimisation for worldwide shipments to reduce transport costs
- Stackability capacity: Canopies and baseframes have been designed so that the highest number of gensets can be loaded and stacked in standard HC containers.
During the exhibition two units stacked will be displayed.
MOTORPUMPS: Additionally, Visa SpA will present the Zeus Wet Prime Motorpump, to complete the range. Designed and built on the significant specialist knowledge acquired through the company's lengthy experience in production diversification, the Zeus series self-priming centrifugal motor pumps are designed to treat clean water, waste water and sewage containing solids in suspension. They are used mainly in construction, industry and manufacturing, mining and quarry, oil & gas, refinery as well as water and wastewater applications.
To find out more about the many advantages of Onis Visa products and the benefits they can bring to your business, visit the company at their stand S3-A50. You will be the most welcome.