Cortina relies on VISA GENSETS for World Cup extraordinary sport events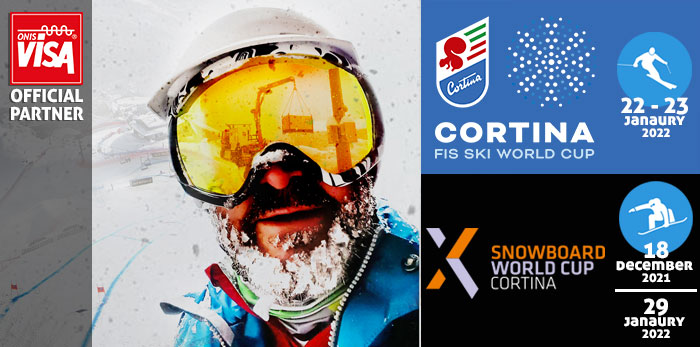 The 2021-2022 winter season appoints Cortina d'Ampezzo once more as the great international player thanks to the Snowboard World Cup and to the Ski World Cup!
Visa SpA will be there too supporting all the sport events, selected once again for the great reliability, experience and for the extraordinary sponsorship contribution to the recent 2021 Alpine World Ski Championships, where it granted a remarkable back-up power to the mains necessary for that kind of events.
The first appointment of the Snowboard World Cup kicks off on December 18, an event that in just a few years, has been able to obtain an important position in the world of sport. The stage in Cortina will be particularly impressive and exciting considering that the athletes will compete on the Tondi slope in the spectacular Faloria Mount, with qualifying sessions in the afternoon and races at night. In addition to all this, with snowboard, Cortina will give an encore! In fact, the World Cup will also offer a second race with the Snowboard Cross World Cup that will be held on January 29 in the Socrepes area, also at night.
But Cortina certainly doesn't stop there. After the great success of the recent World Ski Championships, the eagerly awaited Ski World Cup will be celebrated again next January, an event that has marked one of the most exciting moments in women's sport for almost 30 years. The most famous athletes of world speed will compete in one of the most spectacular ski run, the famous Olympia slope in the Tofane mountains, on Saturday 22 in the downhill and Sunday 23 in the Super-G
Our support and contribution to all these sport events will be granted for sure! The high-quality work, as well as the commitment we have delivered until today through our sponsorship to the World Ski Championships have taught us a lot but, above all, have allowed Visa Spa to achieve a high-level international position for such important events.
Cortina and Visa SpA, for Snowboard and Ski, will be 3 times World Cup together!
PICTURES FROM THE EVENTS OFFICIAL PRESENTATION