VISA SPA is the official sponsor of Giro d'Italia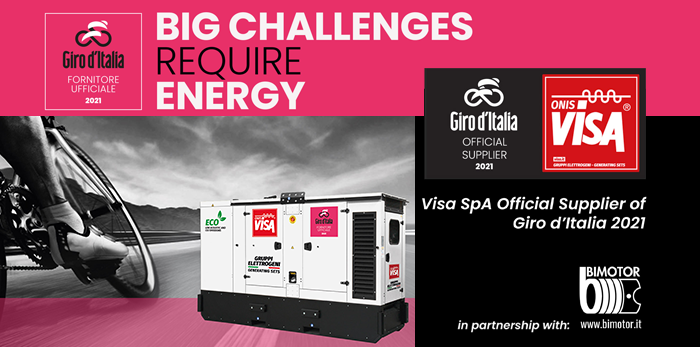 An equally exciting sponsorship to supply the energy needed during all the 21 stages of the 104th edition.
Visa SpA takes part to this important event in partnership with its engine distributor BIMOTOR SPA, a leading company in the sector with over 30 years of experience, a reliable partner with whom it has been collaborating for a long time. The two gensets selected for the project are both model F103 GX VM, 100.0 kVA, designed to operate in parallel between them, specifically developed in accordance to the requirements: generators that minimize the environmental impact thanks to the engines compliant with the most stringent current regulations, equipped with special canopies granting low noise levels to allow a perfect integration in the urban environment as well as the spirit of this amazing event.
These machines ensure maximum performance and reliability and are supported by a technical team ready to step in if required in case of need.
The gensets will power different structures during the cycling race: from the arrival arch at the Finish Line to the display boards, the LEDds and the lights, including the timepieces. The specific areas dedicated to the press rooms and the award ceremony podium are also covered, including all those events that require high-level energy support.
The Visa generators are entirely produced in Italy and represent an example of the "Made in Italy" technology and tradition sharing the same philosophy of the Giro d'Italia itself.
The Giro d'Italia is not simply an extraordinary sporting event but it is a great opportunity to show the wonderful beauty of our country, a land with an artistic, historical and natural heritage to be exported all over the world, a richness that Visa itself has always protected and enhanced through products designed with careful attention to innovation and environmental protection.